Professional Makeup Artist
Nuria Vega Moffat
I began to experiment with face painting in the early 80s in my native country, Costa Rica, doing basic cheek art with limited supplies for my work place's parties. It was just a pastime then, an outlet for my creative urges that needed a way out. In 1984 I moved to this country and started doing face painting for private parties of friends and neighbors. I became more serious about this art after moving to Madison in 2003. Little by little I started to paint for some non-profit groups that knew me well. I formalized my business in 2014 with the creation of an LLC that I called: MetamorFaces. I am largely self-taught, relying primarily on my creative instincts, books and instructional videos. Later, right before the COVID shut down, I decided to add face bling art and headpieces to my face painting designs for more complete and interesting transformations.
My academic background is in the areas of communications and translations. I recently retired as a Bilingual Resource Specialist with the Madison Metropolitan School District and have more time in my hands to dedicate to my art. My clients to date, in a sense, reflect my background. They represent a broad cross-section of area non-profits, businesses, educational and religious institutions and families.
I love being a professional fantasy makeup artist. I am fascinated with the diversity of people's faces and personalities. I enjoy continually challenging myself to learn about new techniques and materials in order to strike a balance between speed and aesthetics.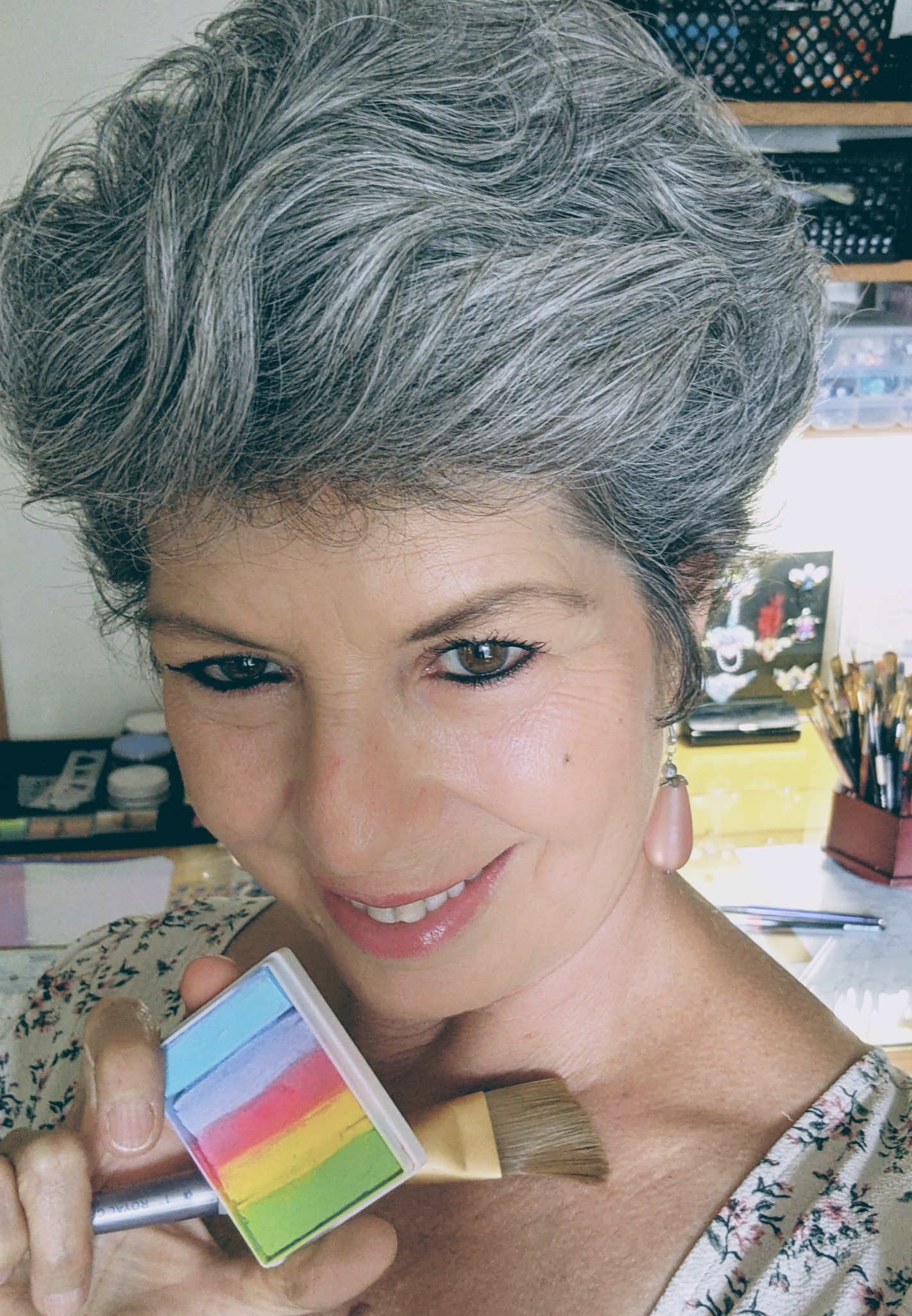 Nuria is bilingual and bicultural, therefore, all information contained in this website is available in Spanish upon request.
Nuria es bilingüe y bicultural, por lo tanto, toda la información contenida en este sitio está disponible en español a su solicitud.
I invite you to contact me if you are interested in exploring how my unique brand of fantasy makeup can enliven your next special event, family gathering or business function.
"Nuria is absolutely amazing at painting faces. We've booked her for a number of events at our business and always have a wonderful experience. She is great to work with and has a great sense of humor. If you want a face painter who is going to leave a lasting impression, look no further than MetamorFaces. She is absolutely the BEST!."
"Nuria Vega Moffat's faces are beautiful. It is fun to watch her work. And she was incredibly engaging and sweet with our children."
"Nuria was the absolute highlight of our party. All of the kids were abuzz for her to come and every single one was thrilled with their faces (and arms). Her wrok is gorgeous and detailed and customized. Moreover, Nuria herself is just so wonderful to be around – she is warm and fun and lively. It is clear that she truly enjoys her work."
Our prices are very reasonable, and we do our best to accommodate the limited budget of some charitable organizations and non-profit groups serving low-income communities. However, as artists we also merit compensation commensurate with our skills and experience. We encourage organizations with more stable budgets to respect our stated prices, as they would with other providers of professional services.
We offer bilingual/bicultural services (English/Spanish). We are proud members of the Wisconsin Latino Chamber of Commerce.
Our minimum service time is 1.5 hours for groups of 10 persons to be painter with some detail, or 15 at the most, to be painted with faster designs. This option applies only to the Madison area and is also subjected to convenient parking, easy access to the premises and other considerations. The average contract time for private parties is 2 hours.
For festivals and all-day events with large crowds, two hours may not be enough time, unless there are several artists painting at the same time or taking turns.
For a quote on having our services at your next event, call us at 608-206-2880.
Contact us with questions or to schedule your next event!